Mid‑Continent Railway Museum's "Whistle on the Wind" 2020 wall calendars are now available for pre-order. The calendar features six color and seven black & white images. Images are a mix of historical railroad imagery as well as more contemporary scenes from Mid‑Continent Railway Museum. Many dates feature "this day in history" factoids about railroads of the Upper Midwest and Mid‑Continent's own history. Quality metal binding keeps the calendar flat against the wall.
Calendars are not yet in stock. The current estimated ship date for orders is Dec. 13th.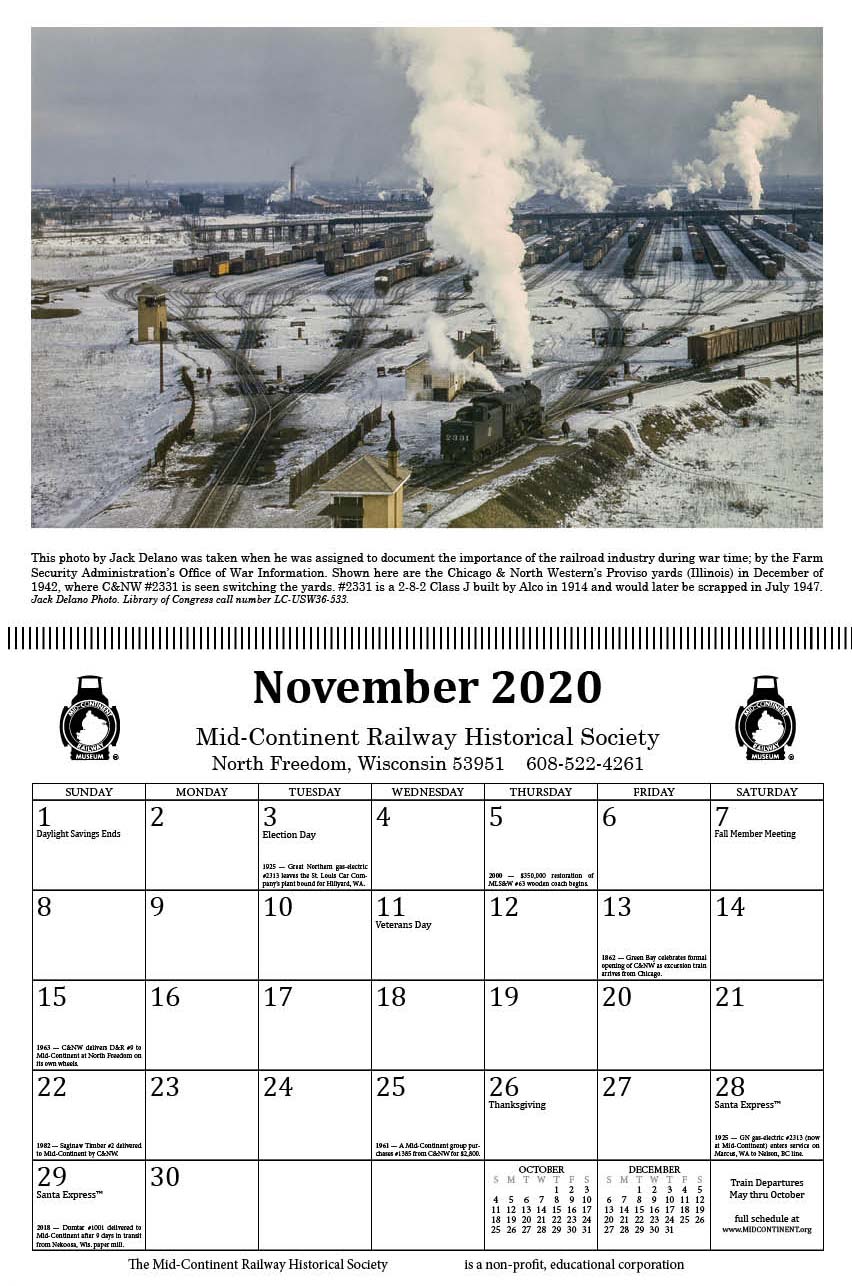 To arrive before December 25th, orders must be placed by December 19th. All orders are shipped via U.S. First Class mail.
Mid-Continent Railway Historical Society members receive one copy free automatically as part of their membership benefits. Members also receive discounted pricing when ordering additional calendars.
| Quantity | Public Price | Member Price | Shipping* |
| --- | --- | --- | --- |
| 1 | $9.50 | $7.00 | $3.00 |
| 2 | $19.00 | $14.00 | $6.65 |
| 3 | $28.50 | $21.00 | $6.65 |
*Price shown is for shipping calendars to a single US address.
Order Your Calendar
To order your calendar, call the Mid-Continent office Monday-Friday 9 AM to 4 PM at (608) 522-4261 or toll-free (800) 930-1385.
You can also order online using any major credit/debit card. Shop with confidence using the secure PayPal online order form (PayPal account not required). Select the appropriate button below to begin your order.
| Public Price | Member Price |
| --- | --- |
| | |