Early September 2019 Boiler Update
The busy bees at Continental Fabricators have been making excellent progress on C&NW #1385's new boiler. By late August work on staybolt installation was wrapping up. The next few photos show that work taking place.
The first shot is looking from inside the firebox at the firedoor ring and we can see the finished welding.
In this second picture we're looking toward the front of the firebox at the crownsheet and rear tubesheet. The small group of staybolts not yet welded in are the flexible stays and the larger holes in the firebox sheets will accept the arch tubes. The arch tubes have a dual purpose in that they will form a structure to hold the arch brick in the firebox. They will also promote much better water circulation around the firebox while the locomotive is in operation.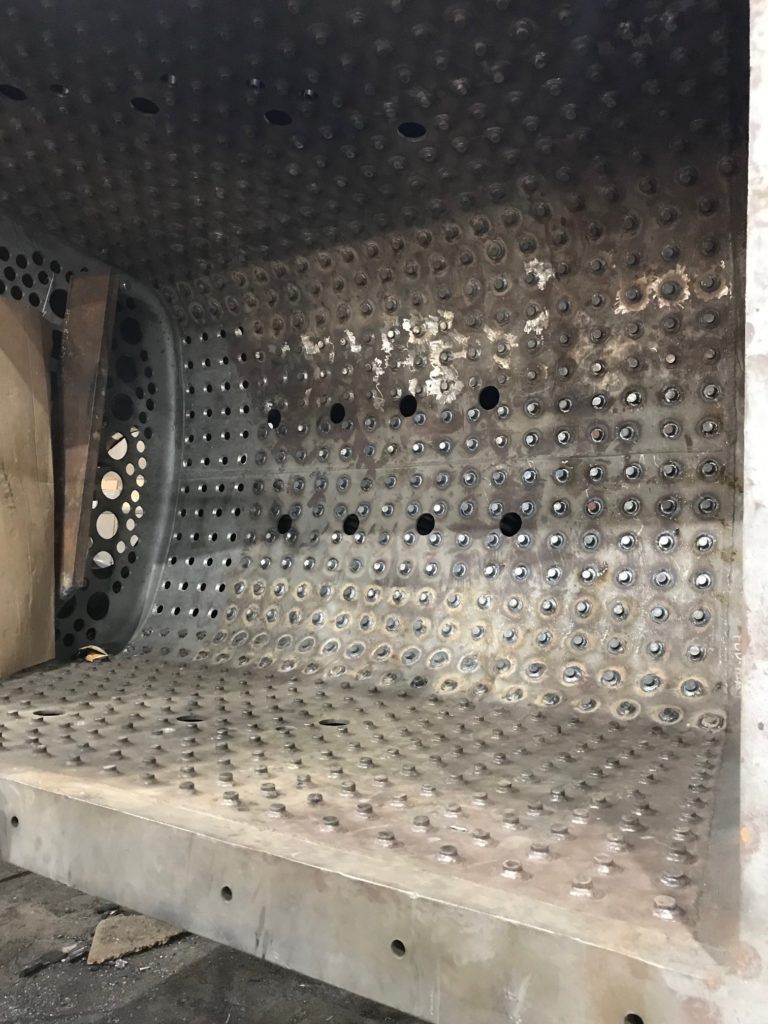 This third shot shows the outside of the staybolts yet to be finished and with the boiler rotated on its side. We're looking at the top of the vessel in the center of the picture.
This fourth picture is looking down through the steam dome inside the boiler at the braces welded in place to support the rear tubesheet. Those braces were discussed in an earlier update and this is a look at the finished product.
With the structural welding completed, as people across the nation were getting ready to fire up their grills for Labor Day weekend cookouts, the folks at Continental Fabricators were preparing a roast of their own. C&NW 1385's boiler was moved inside Continental's enormous heat treating oven for its Post Weld Heat Treatment (or PWHT). This process helps to relieve stresses built up during the welding process. The following two photos were taken while the boiler was cooling off after completing the heat treatment.
Next up, the boiler will get sandblasted and painted. The interior will receive Apexior paint which will help protect the steel from corrosion as it boils the water for steam.