Passenger/Baggage Caboose, Rebuilt by CRI&P, August 1940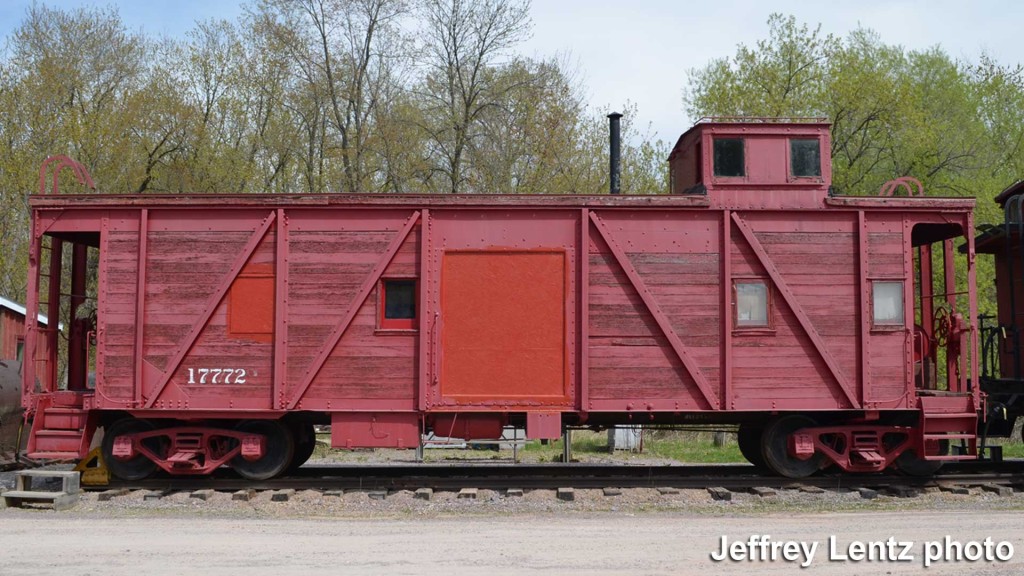 From 1938 until 1944, the Rock Island's 124th Street (Chicago) shops rebuilt 200 40-ton single-sheathed outside-braced wooden boxcars into cabooses for use across their system. The boxcars were modified to provide platforms on each end, a steel cupola was added on the roof, windows were cut into the side walls, and a finished interior constructed which included bunks, a toilet, conductor's desk, tool locker, stove, and an ice box.
Twenty (numbered in the 17765-17784 series) of this lot of 200 cabooses were built in a unique passenger/baggage configuration. CRI&P #17772 is one of these cars. It featured three distinct sections: a passenger section seating eight in pullout seats with bunks overhead; a baggage room section with sliding side doors similar to a baggage car; and a crew section containing a desk for the conductor, cupola, and equipment locker. Passenger car-style steps and platform were placed at the long end of the carbody for easier loading of passengers. During rebuilding, the cars received Barber lateral motion trucks with leaf springs, which provided a better ride than the original coil spring boxcar trucks.
Before conversion, #17772 was originally built as Class B-2 boxcar #44867 by the Bettendorf Company of Bettendorf, Iowa. Bettendorf was best known for its patent freight car trucks, but also built railroad cars. The company was founded by brothers William and Joseph Bettendorf in Davenport, Iowa. In 1902, the company moved to the nearby town of Gilbert which soon was renamed Bettendorf. The company was later acquired by J.I. Case Company.
The twenty converted passenger/baggage cabooses were used on the Rock Island system's mixed trains operating on secondary lines. One might question the viability of constructing combination passenger/baggage cars at such a late date when that very service was in decline. It is presumed that the Rock Island was able to retire much older traditional passenger/baggage cars and replacement them with the smaller capacity cabooses. Also, WWII was on the horizon, and passenger service would enjoy a temporary revival due to gas rationing. After the war, branchline passenger business quickly dried up. But the unique passenger/baggage cabooses held on, thanks to their dual purpose. Most of the original twenty remained in service into the 1960's. By 1970, only four remained. One was still in service at the time of the Rock Island's demise in 1981.
Many were sold to private individuals over the years and have survived. #17772 is one such case. In January of 1967, it was sold to Dr. Philip R. Hastings, a noted rail photographer and member of Mid-Continent. The car was moved from Albert Lea, Minnesota to North Freedom where it was used as a bunk facility. It still serves that purpose today, although it has changed ownership twice.