Milwaukee Road #988 Receives Major Gift
Mid-Continent Railway Museum's historic Milwaukee Road diesel recently received a major boost in the effort to restore the locomotive to working condition. In late 2022, the railroad museum received a donation of nearly $95,000 to help bring the locomotive back to working order.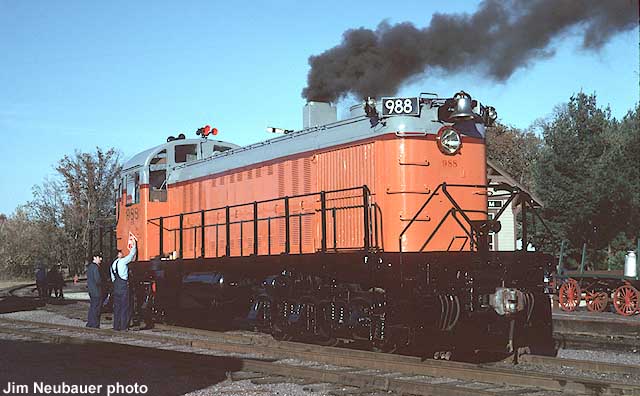 No. 988: A Versatile Midwestern Workhorse
The #988 is a 1500 horsepower diesel-electric locomotive built by the American Locomotive Company in January 1947 for the Chicago, Milwaukee, St. Paul & Pacific, a.k.a. the Milwaukee Road. The locomotive featured 3-axle trucks – two powered axles and a center idler axle to help distribute weight. This made the locomotive ideal for use on branch lines like Mid-Continent's that used lighter-weight rail.
The 988 was used in various areas of the Upper Midwest, including the Milwaukee Road's Wisconsin Valley Division, the Iowa & Dakota Divison, and later on was reassigned as the La Crosse, Wis. switch engine.
The locomotive changed hands a few times before being purchased by a group of Mid-Continent members in October 1985 and arriving at North Freedom in January 1986, debuting in service at Snow Train a month later. It would go on to serve as backup power to Mid-Continent's steam locomotives for the next several years before being sidelined by mechanical issues. The mechanical issues were compounded by water damage during severe flooding at Mid-Continent in 2008.
A Gift from the James T. Baker, Jr Family
Over the years, volunteers worked on the project as funds permitted. However, the organization's fundraising efforts have largely been focused on other projects, causing repairs to #988 to move at an exceedingly slow pace over the years.
One of the primary volunteers working on #988 was James T. Baker, Jr., or "Preacher" as he was often called by his friends at Mid-Continent. Baker was a wealth of knowledge that helped the program move slowly forward using the limited resources allocated to it. Unfortunately, Baker passed away in 2021 after a battle with cancer before being able to see the project through to completion. However, Baker would make one more parting contribution to the project with the aid of his family.
In late 2022, family members presented a check from the James T. Baker, Jr. Living Trust for nearly $95,000 to Mid-Continent during one of the Society's membership meetings. The check was given to help advance the repair of Milwaukee Road #988 to bring it back to operational condition. Additionally, over $5,000 was previously donated toward tools and equipment for Mid-Continent's Machine Shop to assist with the #988 and other locomotive repair projects, bringing the Trust's total gift amount to $100,000.
The Work Ahead
This gift from the James T. Baker, Jr Living Trust, combined with previous gifts from other supporters, has reached a threshold of having sufficient funds to allow the project to move forward in a significant way.
A locomotive repair contractor has already been arranged to complete repairs to the locomotive's trucks and traction motors. Additional contractors and volunteers will be utilized to make repairs to the locomotive's engine, intercooler, and electrical systems. Lastly, the locomotive will need new batteries, bodywork and a new coat of paint. The project is anticipated to take several years.
This important gift, combined with previously donated funds, will go a long way toward bringing this historic gem back to operating condition and allow it to again take a turn at the head end of Mid-Continent Railway Museum's passenger trains.
Photos & Videos