The Pullman Company
Logo above courtesy of The National Railway Historical Society, Washington, D.C. Chapter, Inc
The Pullman Co. traces its beginnings to 1867 when George M. Pullman started a sleeping car service. His service consisted of supplying the linens, housekeeping services and the attendant for the sleeping cars. In the beginning he purchased cars or used the railroads' own cars for this service.
As Pullman's business grew, it became advantageous to build the cars as well as provide the service. In 1880 the Pullman Co. opened its Chicago, Illinois works, to become the largest single railroad car plant in the United States. The Pullman Co. continued to grow and take over other car builders. The end of the railroad passenger car business came in 1979 when Pullman withdrew from the market.
The Pullman Company became world-renowned for the excellent quality of service patrons received from "Pullman" porters and stewards. The Pullman service was a premium service in addition to the standard railroad accomodation. Many Americans will remember the name Pullman as associated with A. Philip Randolph and the International Brotherhood of the Sleeping Car Porters. Randolph fought many fierce battles to bring racial equality within the Pullman Company and the railroads in general.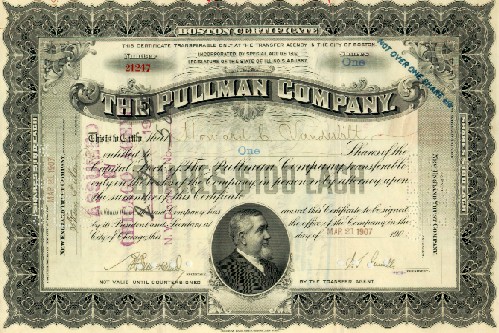 For more information on the Pullman Company, check out these sources:
1. Pullman Negative Collection. Approx. 13,000 negatives of passenger and freight cars, from which prints may be ordered. A video disc is also available, as is a negative catalogue. Source: Smithsonian Institution, Division of the History of Technology, Transportation Collections, NMAH Room 5010, Washington, DC 20560;
2. General Information on Pullman manufacturing at various locations; World War II plants, traction, trolleys, ship division, advertising, post-1932 photographs, etc. Write: Bombardier Corp., Expressway I-95 Business Center, 3684 Meadow Lane, Bensalem, PA 19020-5914;
3. Mechanical drawings for Pullman cars (deposit from Bombardier?) Contact: Illinois Railway Museum, P.O. Box 431, Union, IL 60180;
4. Architectural drawings of Pullman housing and shops. Art Institute of Chicago, Burnham Library, South Michigan Avenue & East Adams, Chicago, IL 60614;
5. Pullman Family Collection and misc. Pullman Co. information and photographs. Chicago Historical Society, 1601 North Clark Street, Chicago, IL 60614;
6. Pullman Collection. Company photographs, employee records and misc. information. Newberry Library, 60 West Walton Street, Chicago, IL 60610;
7. Employee records. Pullman-Standard Co., Chicago plant. Records ca.1900-1949. South Suburban Genealogical & Historical Society, 320 E. 161st Place, P.O. Box 96, South Holland, IL 60473;
8. Information on George M. Pullman, the man and the town. See Palace Car Prince by Liston E. Leyendecker, University Press of Colorado, 1992, hardcover.
9. Some drawings and post-1932 Pullman photos. Pullman Technology, 16412 Lathrop Avenue, Harvey, IL 60426.
10. MG-393, Records from Pullman-Standard Manufacturing Co., of Butler, PA. Includes production line photos, c.1942-1981. Employees are shown producing Pullman cars, making shell casings during WWII, and attending retirees' picnics, 1963-65. Most persons are unidentified. Contact Pennsylvania State Archives, P.O. Box 1026, Harrisburg, PA 17108.
11. The National Railway Historical Society, Washington, D.C. Chapter, Inc. www.doverharbor.com
Source: Historic Pullman Foundation, Chicago, IL.
The Newberry Library in Chicago has a large collection of Pullman archival materials including records, photos, specifications of individual cars.