B-M-X #3-#5 - Page 2
| | | | | |
| --- | --- | --- | --- | --- |
| CCRR | U.P. 1885 | UPD&G 1890/97 | C&S 1899 | C&S 1906 |
| B-M-X #3 | #1323 | #1323 / #28 | #110 | #10 |
| B-M-X #4 | #1324 | #1324 / #29 | #111 | #11 |
| B-M-X #5 | #1325 | #1325 / #30 | #112 | #12 |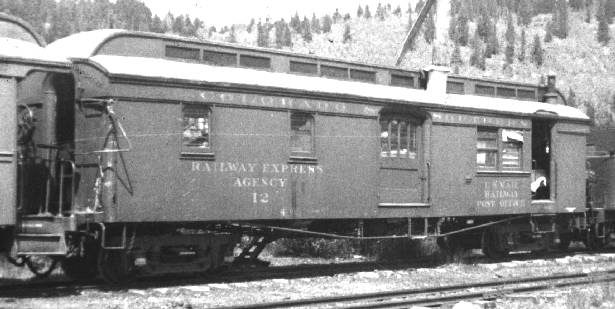 (4) C&S baggage-mail car #12 sometime after 1912 (mail compartment has been rebuilt with sorting cases toward center of car).

HISTORY (Continued)
In 1912 the Post Office created standards for mail cars, and baggage-mail cars #10-12 were rebuilt with narrow gauge standard 15'-0" mail compartments. Prior to this rebuilding, the mail sorting cases were arranged in a "U" shape with its bottom against the end wall of the car. This may have been for security, so someone could not get in from the car's end platform. It also explains why the early photos show the window at the mail end of the car between the door and the end of the car. The new Railway Mail Service standard called for just the opposite: the bottom of the "U" was to be against the midships bulkhead, thus securing access from that side, and end platforms were removed. This explains why in the later photos the windows in the mail section were inboard of the mailroom door.
Baggage-mail car #11 was in the shops late in 1925, for what purpose we do not know, but apparently no change was made to the interior arrangement or to the construction of the car, since no inspection was required by the Postal Department.
Baggage-mail car #10 was dismantled in January 1929, apparently the first of the many cars dismantled that year. Cars #11 and #12 were used for another 10 years, and were dismantled May 1939, #12 after having been stripped down and used as a bunk car for the line's dismantler, Platt Rogers, Inc.
(5) C&S baggage-mail car #11 at Waterton, 13 February 1938. Richard H. Kindig photo at Poole-176.

PHOTOGRAPHS & PLANS
(Photos with Source and Page in blue are best to show car details.)

#
DATE
PHOTOG.
LOCATION
SOURCE
PAGE
C
REMARKS
1884/85
Alex Martin
High Bridge
Hauck
84(d)
CM
CC B-M-X #3, #4 or #5
Kindig
59(d)
RR
c. 1885
Joseph Collier
Atlantic
Digerness2
324(d)
DD
CC B-M-X #3, #4 or #5
Ferrell/SoPk
90
PR
Helmers
157(m)
DP
Kindig
311(d)
RR
DPL WHC
#C-109
DP
1885
C.W. Erdlen / H.D. Newton
Atlantic
Digerness2
324(u)
DD
CC B-M-X #3, #4 or #5
Ferrell/SoPk
122
CM
Speas
72(r)
RR
late 1880s?
James W. Nutt / T.O. Miller
Palisades
Digerness2
316
DD
CC B-M-X #1323, #1324 or #1325
Ferrell/SoPk
92(u)
MF
Poor
226(dr)(ME)
GT
late 1880s
Alex Martin
High Bridge
Kindig
228
FR
CC B-M-X #1323, #1324 or #1325
no date
Unknown
Platte Canyon
Digerness2
35(u)
DD
UPD&G B-M-X #1323
no date
H.H. Buckwalter
Roscoe
Kindig
247(d)
SC
UPD&G B-M-X #1323, #1324 or #1325
c. 1890
Unknown
Big Fill
Hauck
100(d)
LC
UPD&G B-M-X #1323, #1324 or #1325
early 1890s
G.E. Mellon
Platte Canyon
Ferrell/SoPk
220
MF
UPD&G B-M-X #1323, #1324 or #1325
1890s
H.H. Buckwalter
High Bridge
Kindig
223(d)
CH
UPD&G B-M-X #1323
1893
Unknown
Silver Plume
Poor
30(d)(ME)
JT
UPD&G B-M-X #1323, #1324 or #1325
(2)
1894 Aug 7
Unknown
Empire Junction
Digerness3
294
DD
UPD&G B-M-X #30
Hauck
101(u)
KS
Poor
283(ME)
JT
Morgan/GTL
12
NM
no date
Unknown
Big Fill
Kindig
225(u)
CR
UPD&G B-M-X #28, #29 or #30
(3)
c. 1900
Unknown
Denver
Digerness3
379(d)
DD
C&S B-M-X #110 or #112
Hauck
120
KS
Kindig
244
CR
c. 1900
Unknown
Silver Plume
Kindig
417(d)
RE
C&S B-M-X #110 or #112
c. 1901
Unknown
Beaverbrook
Poole
20
RK
C&S B-M-X #110 or #112 (despite caption)
1904
W.H. Jackson
High Bridge
Kindig
235
CH
C&S B-M-X #110. #111 or #112
1926 June
H.E. High
Denver
Kindig
259(d)
RK
C&S B-M-X #10, #11 or #12
1927
H.E. High
Denver
Ferrell/C&S
92(d)
JT
C&S B-M-X #10, #11 or #12
Kindig
259(d)
JT
1929
Unknown
Buffalo
Kindig
271
DP
C&S
1930
Cole
Climax
Digerness2
223(u)
RR
C&S B-M-X #10, #11 or #12
1934 Feb 22
O.C. Perry
Denver
Osterwald
135
DP
C&S B-M-X #11 or #12
1935
Unknown
Como
Wagner
328(d)
WH
C&S B-M-X #10, #11 or #12
1935 Aug 22
J.A. Grow
Breckenridge
Kindig
288(u)
JG
C&S B-M-X #10, #11 or #12
1935 Sep
Bruce Triplett
Unknown
Chappell
108(u)
CM
C&S B-M-X #12
1935 Sep
Bruce Triplett
Jefferson Tank
Chappell
108(m)
CM
C&S B-M-X #12
1935 Sep
Bruce Triplett
Como
Chappell
115(u)
CM
C&S B-M-X #12
Ferrell/C&S
106
RW
1935 Sep
Bruce Triplett
Como
Ferrell/C&S
107(d)
RW
C&S B-M-X #12
1935 Sep
Bruce Triplett
Baker Tank
Beebe
163(d)
EM
C&S B-M-X #12
Chappell
108(dr)
CM
Kindig
415(u)
BT
1936 Aug 15
R.H. Kindig
Denver
Poole
177
RK
C&S B-M-X #12
(5)
1938 Feb 13
R.H. Kindig
Waterton
Poole
176
RK
C&S B-M-X #11
Maxwell
MSrhk14
JM
1938 Feb 13
R.H. Kindig
Waterton
Kindig
389(ur)
RK
C&S B-M-X #11, ¾ view from baggage end, boarded up
1938 Aug 14
J.W. Maxwell
Breckenridge
Maxwell
Z-32
JM
C&S B-M-X #12, with coach 62, engine tender, other coach