Coaches #3 & #4
| | | | | |
| --- | --- | --- | --- | --- |
| CCRR | U.P. 1885 | UPD&G 1890 | C&S 1899 | C&S 1906 |
| #3 | (#189) | Gone | Gone | Gone |
| #4 | #181 | #181 | Gone | Gone |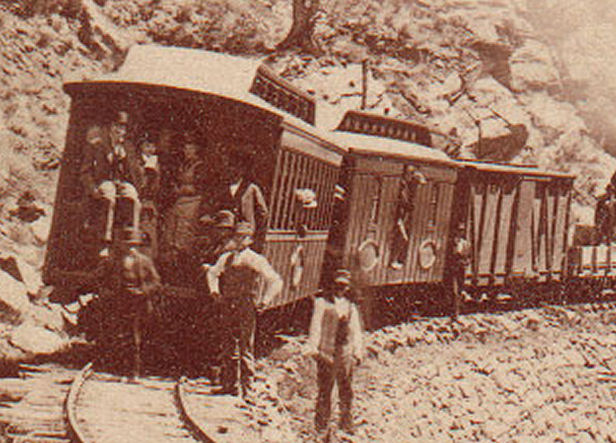 (1) CC coach #3 or #4, with baggage car #2 and what appears to be a homemade boxcar, near Beaver Brook Station sometime between 1874 and 1876. Photo is at Hauck-42.

DESCRIPTION
Since coaches #3 and #4 were out-shopped by the Golden shops of the Colorado Central within 2 months of each other, and reportedly were of the same length, it is reasonable to believe they were sisters. They had 11 double-pane windows with a moderate arch, board and batten siding with an oval name panel centered on the car, and broken bullnose platform roofs.

HISTORY
Coach #3 was out-shopped by the Golden shops of the Colorado Central in September 1873. It was said to be the first passenger car built in Colorado. Coach #4 was out-shopped two months later.
Coach #3 burned at Georgetown on 11 February 1880: a fate all too common to wooden passenger cars heated by coal stoves that were often over-stoked to try to heat the length of a drafty car. She was sitting at the station, having arrived with the evening train from Golden, but the hose of the firemen was too short to reach the car, so the car was rolled to meet the hose, but too late.
When it came time to assign numbers at the 1885 renumbering by the Union Pacific, coach #4 became #181, and coach #3 became #189, with the footnote, "being rebuilt at Omaha." But it apparently became the car that never returned, because when the UPD&G Receiver reassigned numbers in 1891, it didn't make the roster.
But then coach #181 didn't make the Colorado & Southern roster either in 1899, being retired 4 August 1897 and apparently dismantled. Sad. Only 24 years old. Hardly more than a teen-ager compared to many of the narrow gauge passenger cars.
| | |
| --- | --- |
| | (3) Coach #3 or #4 with a different train in Clear Creek Canyon, 1878. Photo at Digerness3-347 and Kindig-53. |
PHOTOGRAPHS & PLANS
(Photos with Source and Page in blue are best to show car details.)
#
DATE
PHOTOG.
LOCATION
SOURCE
PAGE
C
REMARKS
(1)
1874/76
Joseph Collier
Beaver Brook Station
Hauck
42
DF
CC coach #3 or #4
(2)
c. 1875 / early 1880s?
Charles Weitfle
Clear Creek Canyon
Kindig
49
DP
CC coach #3 or #4
Hauck
41
DP
Speas
14
EH
(3)
1878
L. McLean
Clear Creek Canyon
Digerness3
347
DD
CC coach #3 or #4
Kindig
53(u)
DP
late 1870s
Alex Martin
above Black Hawk
Poor
48
EH
CC coach #3 or #4
1878
Charles Weitfle
Central City
Kindig
65(d)
FR
CC coach #3 or #4
n.d.
W.G. Chamberlain
Beaver Brook Station
Kindig
51
PR
CC coach #3 or #4
late 1880s
J.B. Sturtevant
near Sunset on the GSL&P
Beebe
146(d)
EH
CC coach #181
Ehernberger/UP
49
RK
Kindig
348(d)
MP
Poor
88(d)
MP
DPL-WHC
MCC-3175
DP

We know of no plans or drawings for CC coaches #3 or #4.
SUMMARY
CC No.
#3
#4
1885 U.P. No.
(#189) *
#181
1891 UPD&G No.
Gone
#181
1899 C&S No.
Gone
Retired
1906 C&S No.
Gone
Gone
Car Type
Coach
Capacity
15 seats
Delivery Date
Sept 1873
Nov 1873
Acquired From
CCRR Golden shops
Length Over Endsills
30'-9"
Length Over Buffers
Truck Centers
Wheel Size
24"
Truck Wheelbase
Width
Height of Body
Body Above Rails
Weight
Platform Roof
Heating
Stoves
Lighting
Interior Finish
Termination Date
11 Feb 1880
4 Aug 1897
Termination Method
Burned
Retired
* "Being rebuilt at Omaha." (But never returned.)