Coach-baggage #6 - Page 2
| | | | | | | |
| --- | --- | --- | --- | --- | --- | --- |
| CCRR | U.P. 1885 | UPD&G 1890/97 | C&S 1899 | C&S 1906 | C&S 1925 | Central City 1941 |
| #6 | #736 | #736/#46 | #121 | #20 | #025 | #20 |
(4) C&S "train" at Central City, 1951 -- the road to nowhere. (Hayes Hendricks Collection) We have a photo from a different angle taken 1948 or before.

HISTORY (Continued)
About 1970, as plans were being made by the Colorado Historical Society to rebuild the Georgetown Loop, and equipment was being acquired from various sources, locomotive #71 and combination car #20 were sold by the Opera House Association to the Historical Society. But Central City was looking for ways to attract tourists and suddenly saw the potential of "their" locomotive.
The Historical Society sold the locomotive to Central City and apparently donated the cars as well. Loco #71 was restored to running condition, some track was laid on the old grade, and trains were run back and forth for at least one summer. While some had hopes of rebuilding the line all the way down to Black Hawk, nothing came of the idea.
In 1989, gambling was legalized in Central City and Black Hawk, and the land where the locomotive and cars were parked was sold for a casino. The loco and cars were moved to the Coeur d'Alene Mine. Later Harrah's Central City Casino built a display track outside its casino and the loco and combine were moved there for display. Gondola #4319 was moved to a city park picnic area above Central City.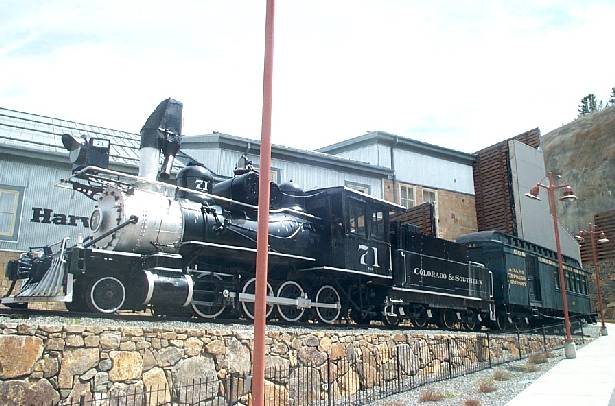 (5) C&S combination coach-baggage #20 and friend outside Harrah's Central City Casino at Central City, 2002. (Photo courtesy of Falke Bruinsma.)

PHOTOGRAPHS & PLANS
(Photos with Source and Page in blue are best to show car details.)

#
DATE
PHOTOG.
LOCATION
SOURCE
PAGE
C
REMARKS
(1)
1880s
Alex Martin
Beaver Brook Station
Digerness3
348
DD
CC coach-baggage #6
Hauck
45(u)
DP
(2)
1905
H.L. Curtis
near Midway Tank
Chappell
140
MF
C&S coach-baggage #121; Digerness is only one that shows whole door; note duckbill roof
Digerness2
355(u)
DD
Ferrell/C&S
140(d)
NA
Helmers
167(u)
VH
Poole
28
PR
Poor
428(u)(ME)
EH
(3)
1941 Apr 12
R.H. Kindig
Blackhawk
Poole
180
RK
C&S coach-baggage #20
1941 Apr 12
R.B. Jackson
Black Hawk
Digerness3
388(m)
DD
Loco #71, gon & combine
1941 Apr 26
Otto Perry
Central City
DPL/WHC
Image OP-6370
DP
C&S coach-baggage #20
1929
Stan Schwedler
Interior of Car
Poole
182/83
SS
6 interior views of C&S coach-baggage #20
1941 Apr 10
J.W. Maxwell
Black Hawk
Maxwell
#Mas31-19
JM
C&S #20
Right ¾ Rear
1941 Apr 10
J.W. Maxwell
Black Hawk
Maxwell
#410401
JM
C&S #20
Left ¾ view
no date
L.C. McClure
Black Hawk
Wagner
61(d)
DP
C&S coach-baggage #20 awaiting the low-boy to Central City
1941 Apr 12
R.H. Kindig
Black Hawk
Kindig
382
RK
C&S coach-baggage #20 awaiting the low-boy to Central City
1941 Apr 20
J.W. Maxwell
Central City
Maxwell
#1001
JM
#20 refurbished for display
Left front ¾ view
1946 Aug 17
J.W. Maxwell
Central City
Maxwell
#G116
JM
#20 refurbished for display
Left rear ¾ view looking downward toward platform
1946 Aug 17
J.W. Maxwell
Central City
Maxwell
#G116A
JM
#20 refurbished for display
Rear end
1948 Sep 21
J.W. Maxwell
Central City
Maxwell
#G996
JM

Underside between trucks
1948 Sep 21
J.W. Maxwell
Central City
Maxwell
#G997
JM

Inside coach portion
1948?
J.W. Maxwell
Central City
Maxwell
#480401
JM
C&S #20
Left ¾ view
1950 Aug 20
J.W. Maxwell
Central City
Maxwell
#G1490A
JM

Broadside of truck
1964
J.W. Maxwell
Central City
Maxwell
#4607
JM
C&S #20
Right of display from below thru fence
1970
David Digerness
Central City
Digerness3
401
DD
Loco #71 and train parked at end-of-track
(5)
2002
Falke Bruinsma
Central City
Online
(See caption)
NA
Loco #71 and combine #20 outside casino
Date Unknown
Brunk
49/50
The following are photos of this car as wrecking outfit #025:
1931
R.B. Jackson
Denver
Ferrell/C&S
218
RJ
Wrecking outfit car #025
1934 Jun
Lad Arend
Denver
Poole
158
LA
Wrecking outfit car #025
1937?
Wm. A. Gibson
Unknown
Digerness1
396(d)
DD
Wrecking outfit car #025
1938 Jun
Ray Hillner
Denver
Poole
150
RH
Wrecking outfit car #025
1938 Jul 30
R.H. Kindig
Denver
Kindig
390
RK
Wrecking outfit car #025
Poole
151
RK
c. 1939
R.B. Jackson
Denver
Poole
159
RJ
Wrecking outfit car #025
1940
R.B. Jackson
Denver
Ferrell/C&S
218(dr)
RB
Wrecking outfit car #025
1940 May 22
J.W. Maxwell
Denver
Maxwell
#62
JM
Wrecking outfit car #025, left broadside, 7th St. Yard
no date
C.H. Kiefner
Unknown
Digerness1
396(u)
DD
Wrecking outfit car #025
1940 Apr 23
Unknown
Denver
Poole
152
DP
Wrecking outfit car #025