C&S Observation Cars #138 - #148
| | | | |
| --- | --- | --- | --- |
| UPD&G | C&S 1899 | C&S 1903 | C&S 1906 |
| #826 | Excursion Coach#199 | — | #138 |
| | | Excursion Coaches #200-#209 | #139-#148 |
(1) C&S excursion coach #201 at unknown location July 1908. Either some cars were not renumbered in 1906, #201 had not been re-lettered yet, or the caption is wrong as to the date. Notice the "shades" that apparently roll up. John Maxwell photo at Hauck-122, Kindig-389(dl) and Poole-207. (Hayes Hendricks Collection)
DESCRIPTION
These observation "coaches" were simply lightly built gondola cars with a roof, and just enough superstructure to hold up the heavy canvas curtains that rolled down to cover the windowless openings through which passengers could enjoy the open-air vistas and thrilling ride over the Georgetown Loop. The bench-like seats were similarly decked out in canvas. Needless to say, there was no heat, though they were certainly "air-conditioned!" Those who were overcome by the view could apparently hide out in one of the three corner seats (see plan view below), while the fourth was reserved for the "hopper" (restroom, for you too young to remember -- but do remember not to flush while the train is in the station)!
These cars rode on diamond archbar trucks very similar to those supporting freight cars. The only concession to passenger "comfort" was an extended wheelbase of 5' and the use of leaf springs rather than coil.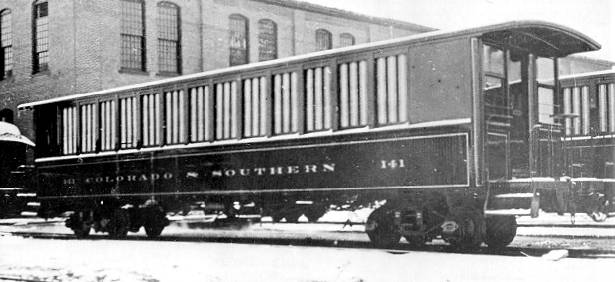 (2) C&S observation car #141 at Denver about 1903. [More likely about 1906 as it has its new number and what looks like a fresh paint job.] John Maxwell photo at Poole-206.
HISTORY
"Observation Car" #826 was built by the Union Pacific shops in 1897 for the Union Pacific Denver & Gulf, as an addition to the fleet of six 14-year-old cars it had inherited from the Colorado Central. It was more spacious than they, being some 2½ feet longer, but seating only one more passenger. This "spacious" car went on the C&S roster in 1899 as Excursion Car #199.
In 1903, as the tourist business burgeoned, the C&S built 10 brand-new excursion cars, using its most "modern" car as a pattern, rather than its now-20-year-old fleet. These became excursion cars #200 - #209.
In 1906, the whole fleet of excursion cars was renumbered along with everything else, and #199 - 209 became #138 - #148.
In 1915, the whole fleet of excursion cars was rebuilt by the C&S, the earliest (now #138) being just 12 years old.
But it went the distance, so-to-speak, managing another eight years before being sold in 1923 to the Herr-Rubicon Supply Co. February 1923.
Regular passenger trains on the Georgetown Loop were discontinued in April 1927, but specials were occasionally run, and excursion coaches #139 - #148 were not dismantled until October 1928, as by then continued maintenance and necessary rebuilding was considered not worthwhile.
PHOTOGRAPHS & PLANS
(Photos with Source and Page in blue are best to show car details.)
#
DATE
PHOTOG.
LOCATION
SOURCE
PAGE
C
REMARKS
(1)
1908 June 3
J.W. Maxwell
Unknown
Hauck
122
NA
C&S observation #201 on rear of train, people on back platform
Kindig
389(dl)
JM
Maxwell
G190 or G586
JM
Poole
207
JM
(2)
1903? or 1910?
J.W. Maxwell
Denver
Maxwell
K141
JM
C&S observation #141 - ¾ view
Poole
206
JM
1906
Louis Charl McClure
Summit Mt. McClellan
DPL WHC
#MCC-682
C&S Observation #148 (?) and another at Summit of Mt. McClellan.
c. 1910
J.W. Maxwell?
Denver?
Maxwell
K142
JM
C&S observation - end view below platform on 4-rail track
c. 1910
J.W. Maxwell?
Denver?
Maxwell
K143
JM
C&S observation - ¾ view of truck, arch bar with leaf springs
c. 1910
J.W. Maxwell?
Denver?
Maxwell
K144
JM
C&S observation - ¾ view, wood beam type passenger truck under car
Unknown
Unknown
Interior
Kindig
389(ul)
CS
C&S observation - interior (cane seats)
We know of no plans or drawings for these cars.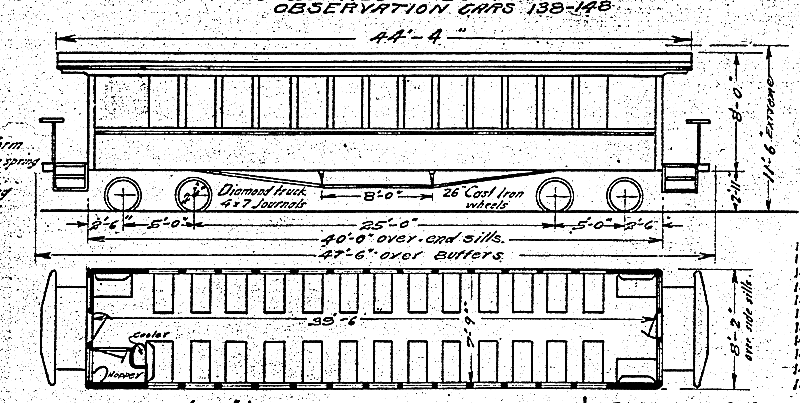 Car diagram for C&S observation cars ##138 - #148 updated through 1916. (Note this is not a scale drawing.) Click pic for enlargement.
SUMMARY
1897 UPD&G No.
#826
1899 C&S No.
#199
#200 - #209
1906 C&S No.
#138
#139 - #148
Car Type
Observation / Excursion Coach
Capacity
29 seats
Delivery Date
1897
1903
Built by
U.P.
C&S
Length Over Endsills
40'-0"
Length Over Buffers
47'-6"
Truck Centers
30'-0"
Wheel Size
26"
Truck Wheelbase
5'-0"
Width
8'-2"
Height of Body
8'-0"
Body Above Rails
2'-11"
Weight
1912
13 tons
1916
120 - 27,200 lbs.
121 - 27,400 lbs.
122 - 27,100 lbs.
123 - 27,100 lbs.
124 - 27,000 lbs.
125 - 26,900 lbs.
126 - 27,300 lbs.
127 - 27,300 lbs.
128 -26,900 lbs.
129 -27,100 lbs.
130 - 26,900 lbs.
131 -27,400 lbs.
Platform Roof
Arched
Heating
None
Lighting
None
Interior Finish
Poplar walls stained cherry with light green ceiling
Termination Date
Feb 1923
January 1929
Termination Method
Sold to Herr-Rubicon Supply Co.
Dismantled