Coaches #9 and #10
| | | | | | |
| --- | --- | --- | --- | --- | --- |
| DSP&P | U.P. 1885 | DL&G 1889 | 1892/93 | C&S 1899 | C&S 1906 |
| #9 | #57 | #57 | Coach-baggage #708 | #128 | #29 |
| #10 | #58 | #58 | Coach-baggage #709 | Destroyed 1898 | Gone |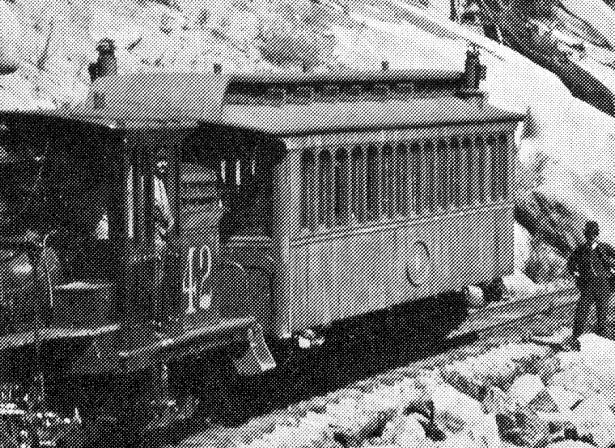 (1) Coach #9 near Cathedral Rocks in Platte Canyon with Mason-Bogie #42. Poor-116(ME) says this is a George E. Mellon photo taken in the late 1880s. Digerness1-162/64 says it is a W.H. Jackson photo taken in 1887. The DPL WHC has a very similar photo from a slightly different angle. It is their Image CHS.J3911, and says it was taken in 1880. Ferrell/SoPk-215 says it is found credited to both Mellon and Jackson, and dates it to 1886, which is most likely correct as the locomotive has its 1885 number but the coach clearly does not.

DESCRIPTION
South Park coach #9 has to be one of the most photographed railroad cars of all time, as it was used by famous photographer William H. Jackson as his darkroom on a number of occasions as he recorded the wonders of the Colorado Rockies to be seen from the railroads of the time. (Notice the curtains pulled across the windows at the right end in photo #3)
Coach #9 was built as a 15 window coach with highly-arched single-pane windows. The windows opened down, and the window sash seems to have had the same arch to its top as the window frame. It is not likely to ever have had board-and-batten siding, as it would not have been rebuilt when only five years old, and the photo above clearly shows tongue-and-groove siding. A decorative name panel graced the middle of the car, probably with the car number (by the time this car was built, only Pullman Palace cars received names). The platform roof appears to have been of the bullnose profile from the very beginning, apparently (except perhaps for coach-baggage #8, for which we have no photos) the first to have that more "modern" roof line.
We have to assume that coach #10—built by the South Park shops at the same time as coach #9, and recorded with the same length, capacity, and wheel size on the 1885 renumbering list—was its twin. (The only recorded difference was that #9 was heated by stoves while #10 was heated by stove and "furnace.")
That they were virtually indistinguishable appears to be the best explanation for the lack of any identifiable photos of #10: quite possibly some of the photos we identify as #9 were actually #10.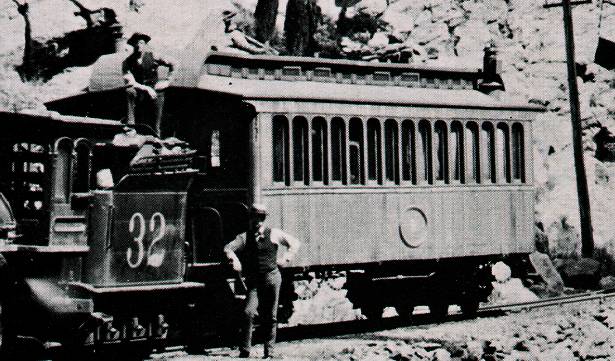 (2) Click pic to see why we can't blow it up any further. Photo by William Henry Jackson, taken at Stony Point in Clear Creek Canyon on the Colorado Central. It can be found at Ferrell/C&S-25, Hauck-90, and Wagner-10 (quite small). Hauck has both the distant photo and the blow-up of the car.