Second #025
| | | | | | |
| --- | --- | --- | --- | --- | --- |
| DSP&P | U.P. 1885 | DL&G 1889 | C&S 1899 | C&S 1911 | C&S 1926 |
| #050 | #025 | Gone | Gone | Gone | Gone |
| | (Box car?) | Officer car #025 | #B-3 | #912 | Water Service #089 |
(1) Denver, Leadville & Gunnison office car #025, date and location unknown. Photo at Martin/Business. The car ahead of it may be just the sort of car from which it was converted.

DESCRIPTION
Second #025 was an odd little car some might call "cute." It was essentially a 26'-0" boxcar with platforms tacked on both ends and a clerestory roof. It was under 7'-0" wide inside. This would make it about the size of a small RV today. And it was rated to carry 5 adults!

What very effectively sets off second #025 from a box car, however is the huge windows flanking the door at the office end of the car, beautifully visible in both the photo above and the photo below. (There were no windows at all at the other end, as it is the kitchen, and various things were mounted on the end walls of the car.)
(2) DL&G business car #025 at Atlantic siding, 17 March 1898. C.H. Scott photo at Kindig-117.

HISTORY
C&S records say that second #025 was converted from a box car (#0515) in 1886. This appears quite likely, but the number is questionable. Possibly this car was outfit car #02515 renumbered by eliminating the last two digits once the original #025 was hijacked by the Union Pacific for use elsewhere (somewhere around 1886). Several authorities suggest the conversion was done about 1890, while at least one suggests it was done as late as 1897. Whenever it was, #025 was on the roster as an "official" [business] car when the C&S replaced the bankrupt DL&G in 1899.
Car #025 went on the initial C&S roster as "Official" car #013 in 1899, but by the time it was relettered 17 July 1900, it had changed to B-3. Just what use it was put to with its limited facilities is uncertain. Unimpressive as it was, it was more likely used for strictly on line business purposes than to entertain visiting dignitaries. It retained the B-3 designation in 1906 when other cars were renumbered, then became business car #913 in 1911.
(3) Detail of truck from photo #2.
Business car #912 was rebuilt by the C&S in 1915, as were so many other passenger cars. One wonders just how extensive all these "rebuilds" were, as so many cars had already been rebuilt so many times before (such being the nature of wooden cars).
Business car #912 was rebuilt again in 1926, becoming water service foreman's car #089 as of 23 April. Presumably it carried the water service foreman around the line inspecting water tanks and other such facilities. Note the end ladders and roof walks that had been added: no doubt to make it easier to get up in the air and inspect the tanks.
Car #089 outlasted most of the C&S' other narrow gauge passenger equipment, evading the dismantlers until November 1940.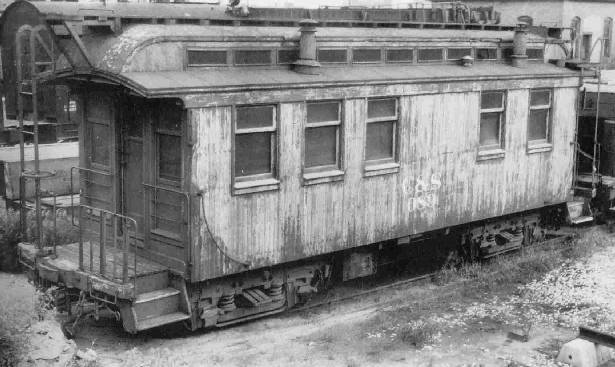 (4) Water service foreman's car #089 at Denver, 1938. Photo at Ferrell/C&S-218 and Poole-155.