Briggs Carriage Company

The Briggs company, like so many other early car builders, was originally a builder of wagons, coaches and carriages. It had been started in 1866 at Amesbury, Massachusetts, by Richard F. Briggs.
In 1889, the firm decided to enter the growing market for streetcars. A completely new, two-story factory was built for their construction, and George Fowler was hired away from the J.G. Brill Company to be foreman of the car shop. Bodies would be produced in the carriage shop. Production began in 1890.
During the next dozen years, a great many cars were produced, mainly for New England traction companies. Cummings has a great deal to say about the various individual orders and the cars involved.
Among the proudest cars produced by Briggs were two single-truck parlor cars and a double-truck parlor car. These cars were produced mainly for the use of railroad officials, but were generally available for charter.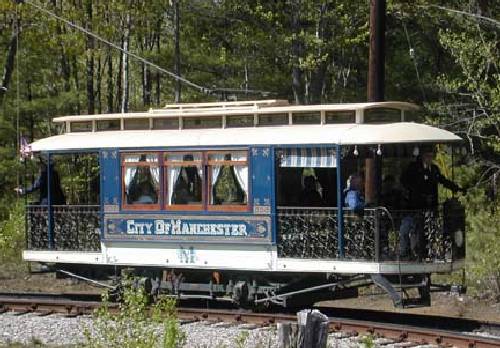 The first of the Briggs parlor cars, "City of Manchester," built 1897 for the Manchester Street Railway. This car has been lovingly restored and is in operation at the Seashore Trolley Museum. There is more information on this car at their website. (Matt Cosgro, courtesy of Seashore Trolley Museum)
Around the turn of the century, streetcar business slowed, and Briggs began building automobile bodies for the Locomobile Company of Bridgeport, Connecticut. A three-month strike, coupled with a dearth of streetcar orders, convinced the company to halt streetcar production in 1903. That business was effectively willed to the Southern Car Company at High Point, North Carolina, when Brigg's principal owner, Edward R. Briggs, was involved in its establishment, becoming its first Secretary-Treasurer.
Can you tell us why Edward Briggs left Massachusetts for North Carolina? There most be a story here, if only we can find it. Please contact us.
For More Information —
Cunningham, Gerald F. & O.R. Cummings. A Forgotten Industry ... Newburyport and Amesbury Streetcar Builders ... The Newburyport Car Manufacturing Co. The Ellis Car Company. The Briggs Carriage Company. Forty Fort, PA: Harold E. Cox, 1995.
Cummings, O.R. A Forgotten Industry; Preface and History of the Briggs Carriage Company, Amesbury, Massachusetts. 1994. Online at http://www.hampton.lib.nh.us/hampton/history/trolleys/aforgottenindustry.htm courtesy of the Lane Memorial Library, Hampton, NH.