Harlan & Hollingsworth - Page 4

Interurban Cars —
Among the most interesting interurban cars produced by Harlan & Hollingsworth were the "Holland" sleeping cars and the unusual articulated units constructed by Bethlehem in 1935 for the Key System's Bay Bridge service between San Francisco and the East Bay cities.
The two "Holland" sleeping cars were built by Harlan & Hollingsworth in 1903 for the Holland Palace Car Company. Holland aspired to become the Pullman of the interurbans, but was bankrupt and out of business by 1906.
Just two cars were built for Holland. Named Theodore and Francis, they were first tried out on the 64-mile run between Columbus and Zanesville, OH, then moved to western Ohio, and finally to the Illinois Traction Railroad, where they served the 172-mile run between St. Louis and Peoria. There they were renamed Decatur and Springfield after two towns on that line.
The two cars were unsatisfactory as sleeping cars due to the noise and vibration from the power trucks. (They were ultimately replaced with cars of the railroad's own design that were "trailers" (cars without their own motors, operated in combination with motorized cars).)
Outside and inside of Holland Palace Car Company sleeping car Francis. Parlor car by day, it converted to a sleeping car by night through the use of rolling partitions. (Sorry for the crease. We didn't want to break the book's binding.)
The Springfield was destroyed by fire 20 May 1916. The Decatur was rebuilt as mainline motor car #272 in 1911, converted to bunk car #7 in 1914, renumbered to #14 in 1922 and #028 in 1930. It was finally retired 22 February 1939.

The Key System —
Articulated "bridge units" of the Key System operated across the Bay Bridge from Oakland to San Francisco, 1936-1958. They were built by the Harlan Plant of the Bethlehem Steel Co. at Wilmington, DE. The Key System, as all of California's rapid (rail) transit, was scuttled by the motorbus interests in favor of the diesel monsters. Now some Californians, sitting on maxed-out freeways, wish they had them back!

"Shoeless" Joe Jackson —
Are you familiar with the story of "Shoeless" Joe Jackson, Chicago White Socks left fielder, and the "Black Socks" scandal of the 1919 World Series?
In 1917, Joe bats .307 and stars in the field, leading the White Sox to victory over the New York Giants in the World Series.
In 1918, he takes a job in a shipyard to contribute to the war effort (1st World War), takes a lot of heat for not going overseas, but continues to play baseball for industrial league teams.
In 1919, he bats .351 during the regular season, posts a .375 average at bat and a perfect 1.000 fielding average in the World Series as the White Sox lose to the Cincinnati Reds, but is nevertheless accused of conspiring to throw the series.
Guess what was the shipyard for which Joe worked and the industrial league team for which he played. If you guessed Harlan & Hollingsworth, you win the prize!

Harlan & Hollingsworth/Ship Builders —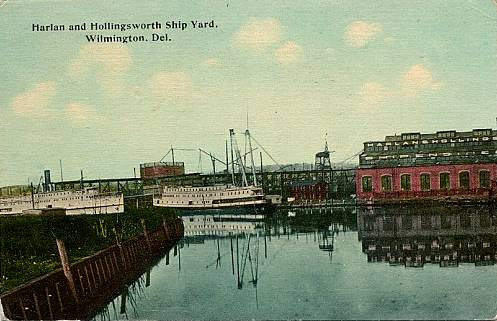 The following list represents only those ships erected by Harlan & Hollingsworth that we found by searching the Internet (and probably not all of those): a small sampling of the ships actually constructed over a period of more than 100 years.
| | | |
| --- | --- | --- |
| 1859 | Champion | Iron, side-wheel schooner-rigged steamer. First iron ship of any size built in the United States. Cost $145,000. Owned by Cornelius Vanderbilt. |
| n.d. | Morgan | For Charles Morgan. |
| | Louisiana | Commercial steamer turned gunboat - probably one of Charles Morgan's |
| 1860 | William G. Hewes | Texas Line of Charles Morgan's Southern S. S. Co. Interned at New Orleans upon Louisiana's secession. Governor Moore seized her 28 April 1861. |
| 1863 | Saugus | Single-turret, ironclad monitor |
| 1866 | Mary | Iron-hull steamship with vertical walking beam engine built for Charles Morgan. |
| 1868 | Josephine | 235' iron-hull sidewheel steamer for Charles Morgan. |
| 1871 | Roanoke 1 | 172' steamer |
| 1874 | Amphitrite | Iron-hulled, twin-screw coastal defense monitor (turreted, armored warship). Officially a "repair" of Civil War-era Tonawanda, but actually new construction that took two decades. Begun 1874, the incomplete hull was transferred to Norfolk Navy Yard in 1883 for completion. Launched 1895, she served in the Caribbean during the Spanish-American War, then served as a training ship. During 1st WW, guarded New York Harbor. Decommissioned 1919 and converted to floating hotel. Scrapped 1952. |
| 1876 | Dauntless | Side-wheel Delaware River ferryboat. Burned at Gloucester City, NJ, 13 October 1922 |
| 1880 | Albany | First iron steamboat of the Hudson River Day Line. 305 feet. Had wheels 32 feet diameter and 12 feet wide. |
| 1880 | Potomac | Formerly the S.S. Albany of the Hudson River Day Line. In service as excursion steamer until 1948. Cut down to iron hull in 1950 and converted to pulpwood barge. |
| 1881 | City of Worchester | |
| 1882 | Richard Peck | |
| 1883 | Olympian | First steel-hull vessel |
| 1883 | Eastern Shore | Iron hulled sidewheel steamer, powered by a single cylinder vertical beam engine. Built for Eastern Shore Steamboat Company. |
| 1884 | City of Kingston | 240' Cornell Steamboat Company steamboat. Pioneer fast passenger propeller on the Hudson River, making 19 mph. |
| 1884 | Nourmahal | 233' steam yacht of William Astor. $400,000 |
| 1884 | Electra | 161' steel and iron screw-steamer of Elbridge Gerry |
| 1885 | Cape Charles | 252' sidewheel ferry built for the New York, Philadelphia & Norfolk RR |
| 1885 | Joppa | 198' sidewheel steamship for Maryland Steamboat Company. The feathering paddlewheels were 22 feet in diameter. |
| late 1880s | Alva | 285' three-masted bark-rigged screw steamer with a steel hull. William K. Vanderbilt. First steel yacht. |
| 1887 | New York | 311' Day Line steamboat. Wheels were feathering type, with 12 buckets, 12.6 feet length by 3.9 feet width. |
| 1889 | Express | Steamship |
| 1898 | Romance | 245' steam, twin-propeller built for Bay State Steamship Company. |
| n.d. | Ellis Island | Ferryboat that carried immigrants from New York's Ellis Island to the Battery in the early 20th century. |
| 1899 | Kershaw | |
| 1899 | Stringham | Steel torpedo boat |
| 1903 | C.W. Morse | 427' Hudson Navigation Company steamboat. Feathering paddles are 34 feet diameter. |
| 1905 | Firefighter | Fireboat built for the DCFD, equipped with two Duplex fire pumps, built by the Blake Pump Co., Cambridge, Mass. and rated at 6,000 GPM total capacity. |
| 1907 | Relief | Steel wrecking tug converted 1918 to Motor Patrol Boat (SP-2170) |
| 1913 | Narragansett | 340' steamship built for Central of Vermont Railroad but never used because its owner went down with the Titanic. 1917 hull sold to U.S. Navy. |
| 1916 | Georgiana III | 95'-2" steam yacht built for personal use of William G. Coxe, President of H&H. |

Cast of Characters —
Mahlon Betts (1795-1867) was born in Bucks County, Pennsylvania, and came to Wilmington in 1812. About two years later he purchased a small foundry at 2nd and Justison Streets from Samuel Baldwin and operated it in partnership with Evan Thomas. He built a larger foundry on his own account at 8th and Orange, where the first heat was run on July 20, 1828. Betts's first foundry was worked by horsepower, but the second featured the first stationary steam engine used in the state of Delaware. He leased the foundry at 8th and Orange to his son Edward, who carried on the business as Betts & Stotsenburg.
Samuel Nichols Pusey (1814-1885) was born in Delaware, probably in New Castle County. His mother died in childbirth, but he eventually had two stepmothers and nine half-siblings. Though 28 years separated Samuel from his youngest sibling, the siblings (and their spouses) were frequent business partners and socialized together, especially those who lived in the Wilmington, Delaware area. Samuel was a businessman. The 1880 census lists him as a retired merchant. Judging by the size of his estate, he appears to have been a very successful businessman.
Samuel Harlan (1806-1883) was born at Long Island, New York, the son of a carpenter. He became a skilled cabinetmaker. He married 1830 in Chester (now Delaware) County, Pennsylvania, Susan Fairlamb, younger sister to Elijah Hollingsworth's wife Anna Richardson Fairlamb. He died at Vienna, Austria, but is buried near Wilmington, Delaware.
Elijah Hollingsworth (1806-1866) was born at ____. He married in ____ at ____ Anna Richardson, elder sister of Samuel Harlan's wife Susan Fairlamb. He died at _____.
(If you can fill in the blanks (or add to any of the above sketches, PLEASE get in touch with us!)

For More Information
—
"Holland Sleeping & Parlor Car - 1903." Traction PlanBook. Newton, NJ: Carstens Publishing, 1964, p. 39.
Photos and scale drawing(s).
Gause, Harry T. Semi-Centennial Memoir of the Harlan & Hollingsworth Company. Wilmington, DE: Privately printed, 1886.
Hoffecker, Carol, Wilmington, Delaware—Portrait of an Industrial City, 1830-1910. Charlottesville, VA: University Press of Virginia, 1974.
Online points to begin in-depth research —
"Betts & Steel Records, 1828-1868." Hagley Museum and Library. Online description of holdings.