Kimball Carriage & Car Mfg. Company
Kimball Manufacturing Company


The Kimball Car Works was begun about 1860 at San Francisco by George Kimball a native of Massachusetts. He was very likely related to the Kimball family of New Hampshire, who were among the biggest names in the eastern carriage building business.
Kimball built horse cars, cable cars, passenger coaches for steam railways and, according to one authority, "even furniture." Backed by William C. Ralston's Bank of California, established in 1864, and no doubt inspired by Ralston's predilection to grow any enterprise with which he was associated until it could grow no more, Kimball aspired to be a major car builder, but in fact became only a regional manufacturer, building coaches for the Virginia & Truckee, North Pacific Coast and even a few for the Southern Pacific. But most of its production was horse cars, which it shipped "as far away as Japan." (Japan is just across the pond from San Francisco.)
In 1868, Kimball built a huge factory at 4th & Bryant on the site of the former D. McLean & Company shops.
Virginia & Truckee Coach #3 by Kimball Car Works, 1869.
A letter from R.L. Ogden to W.C. Ralston dated 9 June 1871 says the "Siempre Viva" (a railroad car manufactured by Kimball) has arrived in Omaha with very little trouble on the way. The trucks are outmoded and are being modernized in Omaha at a cost of not over 40; the old foreman of the Omaha shops takes an interest and informs Mr. Ogden of late improvements; delayed in Omaha because a freshet makes it impossible to get over the river and does not know when it will be possible to cross; standing out in the broiling sun scorches the car but no checking yet; alkali dust has taken off the "shine" which will be restored in Chicago; is of the opinion that the cars the Kimball Manufacturing Company builds satisfies Mr. Ogden of its ability to build them and to compete; its car compared more favorably with those in Omaha; getting valuable points which will save money; taking notes, getting familiar with the vital principals; can get needed drawings; [James] Lees and family seemed to enjoy the trip but had to go on to Chicago; mentioned others waiting with Mr. Ogden and several picked up elsewhere; river rising and may have to be rerouted and will depend upon cost about which he will find out; the railroad car is "a great show crowded all the time"; tired of repeating the same thing over and over so is getting out a pamphlet to give to everyone.
A letter from William W. Cargill to W.C. Ralston dated 12 October 1871 says Cargill has adopted Ralston's ideas regarding Eastern credits and wrote to London in support of them; explanation; influences Japanese order for street cars; Railway Engineers doubt whether Mr. Ralston [i.e. Kimball Manufacturing Co.] can supply rolling stock at less than half the cost in England; asks Mr. Ralston to send drawings and estimated cost of railroad cars with explanations.
It appears that about 1872/73 the name of the firm was changed to Kimball Manufacturing Company, for what reason or with what legal ramifications we don't yet know. [Can you tell us?]
With the Central Pacific Railroad car shops in Sacramento, in 1873[?], Kimball built the first cars for San Francisco's California Street Cable Railroad Company.
A letter from Michael Lynch to William C. Ralston, dated 18 April 1874 says, he has received Mr. Ralston's letter requesting that the Steam Fire Engine built by the Kimball Manufacturing Company be examined and suggesting that local industry be patronized; Mr. Lynch and his colleagues agree on purchasing from home manufacturers; the fire engine had been tested in a public trial attended by Chief David Scannel, some Fire Commissioners and the Board of Supervisors; satisfactory test; cannot officially say that an order will be placed with the Kimball company but thinks it may.
In 1876/77, Kimball built a private car from native California woods for Peter Donahue, founder of the Pacific Gas & Electric Corporation.
In 1887, Kimball manufactured half the original order for California Street Cable Co. cars, but this may have been its last hurrah, as it had no further known production.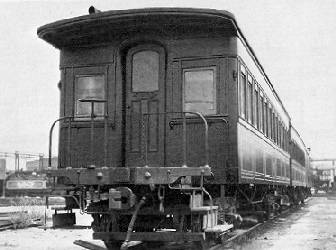 End view of V&T Coach #3
The Nevada State Railroad Museum has restored a number of Virginia & Truckee cars built by the Kimball Manufacturing Company. Read about them at their website. Or better yet, go see them! Coaches #3 and #4 were built in 1872. Coach-caboose #9 and coach-caboose #10 were built in 1873.
Cast of Characters —
George [Prescott] Kimball (1830-1880+), the son of Prescott Kimble (1807-1835) and Mary Spaulding (1810-1830+), was born February 1830 at Chelmsford, Massachusetts.
He married Martha Atwood Lynch 6 July 1858.
Lemuel Shattuck, Memorials of the Descendants of William Shattuck, (Printed for the family by Dutton and Wentworth, Boston MA, 1855, reprinted by Quintin Publications, 22 Delta Drive, Pawtucket RI 02860, www.quintinpublications.com), Page 340.
He was enumerated in the 1860 U.S. Census at
He was enumerated in the 1880 U.S. Census at San Francisco, Occupation: "Carriage Builder" age 50, b. MA.
For More Information —
White, John H. "George Kimball: A Pacific Coast Car Builder." Railroad History, Bulletin 138, Spring 1978.
Online -
National City (California) Public Library. A Guide to the Kimball Family Collection 1854-1934. Online at http://www.ci.national-city.ca.us/departments/library/kimballcoll.pdf
California Historical Society, Primary documents of the gold rush era, selected from the North Baker Research Library collection in San Francisco:

OGDEN, RICHARD LIVINGSTON (l825?-l9OO). PAPERS, n.d. 1/2 box. Two autobiographical sketches by Ogden, dealing with the Mexican War, where he served as Assistant Quartermaster of the Department of the Pacific, and his later life in San Francisco and California. Ogden established the firm of Ogden and Haynes, commission merchants in San Francisco in the early l85Os, and was one of the founders of the Kimball Carriage and Car Manufacturing Company in the 1860s and 1870s. He was also the first president of the reorganized San Francisco Yacht Club.