Woodruff -- Central Transportation
T.T. Woodruff & Company
Woodruff Sleeping & Palace Car Company
Central Transportation Company
Woodruff Sleeping & Parlor Coach Company
Union Palace Car Company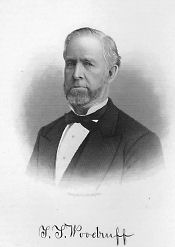 At the age of 16, Theodore Tuttle Woodruff (1811-1892) happily left the farm and became an apprentice wagon-maker. He worked at that trade for three years and then went into a foundry to learn pattern-making. As a journeyman pattern-maker he worked for the earliest car builders in Springfield, Massachusetts. He may have worked at Dean, Packard & Mills Car Builders in Springfield and thus had a friendship with Caleb Parker at the time Parker was a principal in Barney, Parker & Company (predecessor to Barney & Smith).
About 1855, Woodruff became Master Car Builder for the Terre Haute, Alton & St. Louis Railroad at Alton, Illinois. At the time of his employment, Barney, Parker & Co. was engaged to build cars for that railroad. On 2 December 1856, Woodruff received two patents for a convertible car seat (Nos. 16,159 and 16,160). He went back to Springfield, Massachusetts, where he had a car built by T.W. Wason & Co. using the seats.
Woodruff's design divided the car into sections, with seats permanently fixed in pairs facing each other. A lower and a middle berth were produced by a complicated arrangement of pivoted seat cushions. An upper was produced by hinged frames that folded up against the wall by day. At night curtains were hung between and in front of the berths.
Interior of T.T. Woodruff's sleeping car. (Scientific American, 25 September 1858)
Woodruff's car was tried on the New York Central in 1858, with Woodruff personally managing it. While there, he met Andrew Carnegie, who sent him to see T.A. Scott, superintendent of the Pennsylvania Railroad, who encouraged Woodruff to organize a company to build and operate the cars. Woodruff organized T.T. Woodruff & Company, and Carnegie, of course, was one of the investors. The Woodruff car was withdrawn from the NYC and adopted by the Pennsylvania Railroad for use on its run between Pittsburgh and Philadelphia. It met with considerable success, and by the end of 1858 eight of the midwestern railroads had Woodruff cars in service. Barney, Parker & Company was engaged to build some of Woodruff's patented sleeping cars.
The Central Transportation Company was established in 1862, with Woodruff as the principal stockholder and his brother Jonah (1809-1876) as manager. Woodruff assigned his patents to the new company, as did several other inventors. But in 1864 Woodruff assigned all his interests to one of the other stockholders and retired from the sleeping car business.
(Woodruff was an inveterate mechanic, inventor and promoter. Among his inventions -- besides the sleeping car apparatus -- were a coffee-hulling machine, a surveyor's compass and a steam plow. He was killed in 1892 when -- at the ripe old age of 81 -- he was struck by a train while on a business trip to promote his new method of propelling ships.)
In 1870, Central Transportation became involved with Pullman in a patent infringement suit and after costly litigation was leased to, and assigned most of its patent rights to, the Pullmans Palace Car Company.
| | |
| --- | --- |
| | They even wrote music about Jonah Woodruff's Silver Palace Cars that ran on the Central Pacific. This piece was copyrighted in 1868. Click pic for enlargement. |
Theodore Woodruff's brother Jonah decided to begin again and organize his own line. He had been involved in sleeping car design and had acquired several patents of his own. His new company—the Woodruff Sleeping & Parlor Coach Company—was expanding nicely when his health gave way in the mid-1870s, and he died in 1876.
The December 1888 issue of the Official Railway Guide startled the railroad world (and most of all George M. Pullman) with this announcement: "Union Palace Car Co.... will commence operating SLEEPING AND PARLOR CARS on about 15,000 miles of railroad in January 1889." Union had been incorporated 24 September 1888 in New Jersey by Job H. Jackson of Jackson & Sharp to secure control of the Woodruff Sleeping & Parlor Coach Company and the Mann Boudoir Car Company. The two companies operated a total of 34 cars on about 5,000 miles of railroads in the East, South, and Midwest. Pullman lost no time. Two months later Union Palace was purchased by Pullmans Palace Car Company for $2.5 million. Some parts of Union seem to have survived, because it was not finally dissolved until 1899.