Hicks "East Works"
Freight Cars

"Early in 1905 the property known as the East Works, comprising 58 acres of ground, was acquired to accommodate the constantly increasing demand for freight cars. The buildings are of substantial brick construction and well equipped with the most approved machinery for building and repairing all classes of freight cars."
"The Truck Shop and Wood Mill are served by a ten ton overhead electric crane by means of which the completed trucks, as well as sills and other heavy materials, are delivered to the required track of the Erecting Shops adjoining. The machinery is motor-driven.
"The Blacksmith Shop also adjoins the Truck Shop and is in turn conveniently located with reference to the commodious Store House and storage yards. In it will be found all the usual heavy machinery required by an up-to-date car building establishment.
"These buildings, with extensive lumber yards and dry sheds, oil and paint house, office building and power plant, constitute the East Works."
— From a 1908 Hicks promotional book.
East Works engine room. Click image for enlargement.

Blacksmith shop. Click image for enlargement.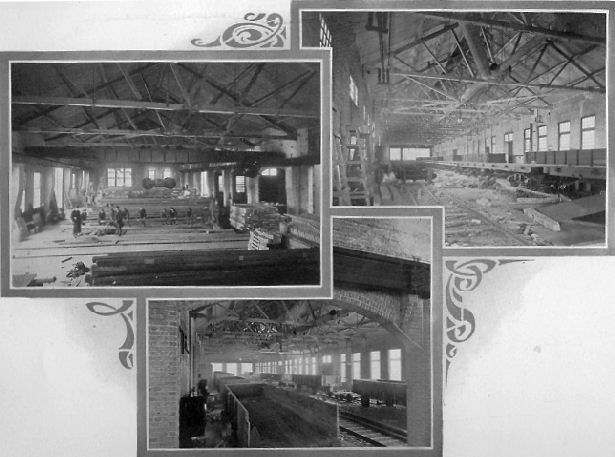 Freight car erecting shops. Click image for enlargement.

Truck machine shop. Click image for enlargement.
Other Hicks pages (lots of images - may take several minutes to load) —