Meet our Board of Directors!
Andy Spinelli – President
Andy Spinelli has a passion for trains, both full-sized and model versions. He also collects and restores antique farm tractors, engines, and printing presses. Andy has been a volunteer at Mid-Continent for over 12 years.
Andy is a graduate of Northern Illinois University with a degree in Education. More than 20 years ago he started working at the family-owned paper manufacturing business. Today, Andy is the general manager and president of the business, which continues to grow under his leadership.
Andy has served as past director at Salt Creek Society of Model Engineers, a director, vice-president, and president of McHenry County Antique Farm Equipment Association of Illinois, and is the founder of Spinelli Equipment Museum, which he built at home.
Andy and his wife Jami have been married for over 20 years. They have two teenage children, David, and Mary. The entire family can often be found volunteering together during Mid-Continent's special events.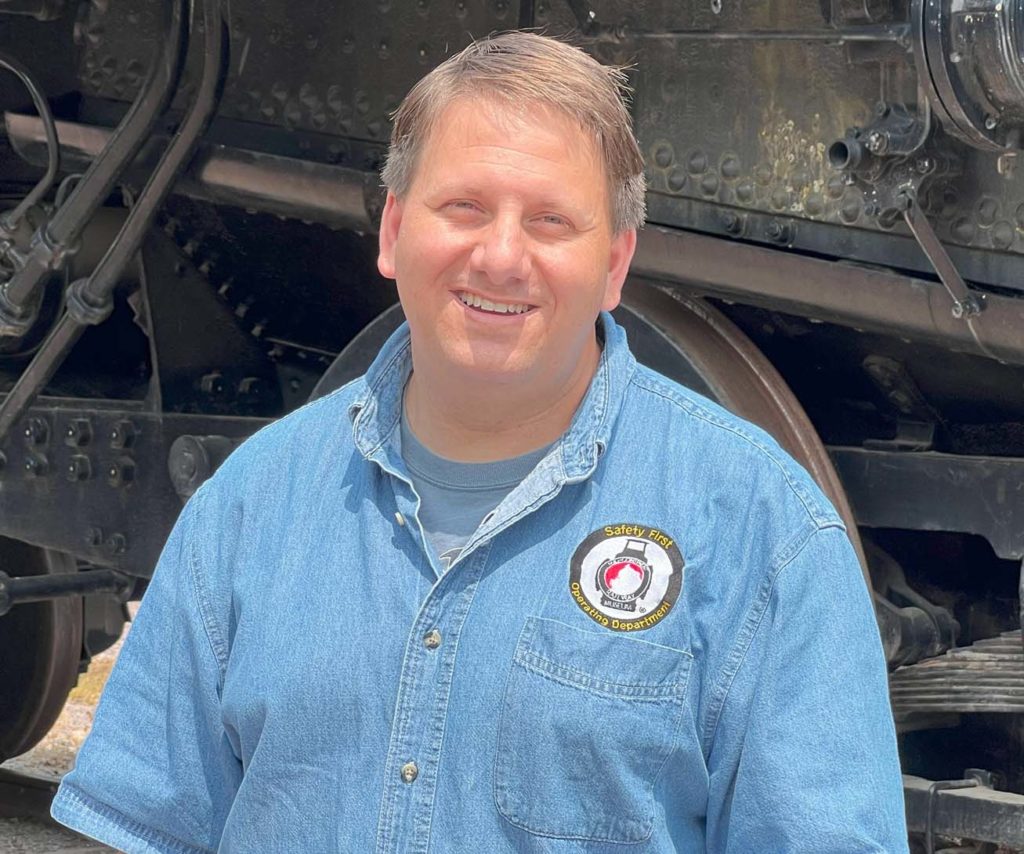 Jeff Huttenburg – Vice-President
Jeff is a retiree who has been a member of Mid-Continent since 2012. He has served on the board of directors, was a member of the Coach Shed #2 Building Committee, and the New Storage Building Committee. Jeff has also spearheaded and worked on various projects at the museum.
He is looking forward to helping Mid-Continent become a debt-free and self-sustaining museum that can continue to show visitors the golden years of railroading by providing train rides (diesel and steam) and historically accurate exhibits.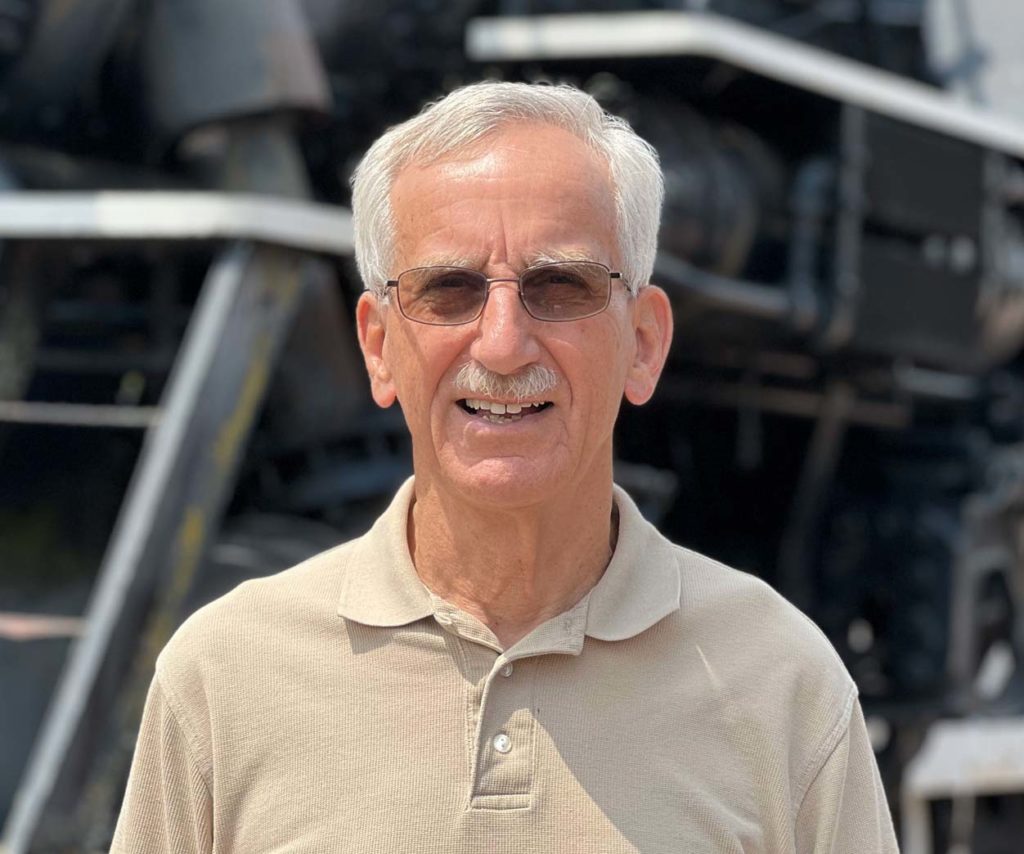 Robert Anderson – Treasurer
Robert grew up on a dairy farm near Elroy and graduated from Augsburg College in Minneapolis, MN with a BA in Business Education and from UW-Madison with a MS degree.
Robert taught business classes at the high school level for four years and then went into the stock investment business where he retired after 50 years. He has also started and run several small businesses.
He has been married to his wife Carolyn for over 60 years and they have a total of 4 children and 12 grandchildren. In his spare time, Robert collects and restores old tractors and old toys.
He spent 50 years helping others manage their money and retirement plans and has been on the board of directors of several nonprofits as well as his church. He was on the Advisory Board of Capitol Bank in Madison and has been a member of the Rotary Club since 1982 and has served as President.
Robert has had a life-long interest in railroads, that he says started when Elroy was a major division point on Chicago & North Western. He has visited several tourist railroads around the US and has been involved with Mid-Continent as a board member since 2005.
Colin O'Brien – Secretary
Colin O'Brien is a third-generation life member of Mid-Continent who has been volunteering with the organization for nearly 20 years. Colin is a graduate of the University of Iowa with a degree in Spanish and a master's in teaching. He has been teaching high school Spanish for a decade and enjoys combining his passion for education with his love of railroading while volunteering at Mid-Continent. Aside from his role as Secretary and on the board, Colin is also the museum's safety training officer, teaching the next generation of volunteer trainmen and conductors at Mid-Continent.
Colin lives in North Liberty, Iowa with his two sons and an extremely supportive wife, Molly. Colin spends his summers restoring his family's Baltimore and Ohio caboose.
Bobbie Wagner
Bobbie Wagner lives in Lyons, Wisconsin, a small town near Lake Geneva. She has 2 daughters, 7 grandchildren, and 19 great-grandkids (and they really are great). Wagner and her husband owned and operated an aircraft parts mail order house for 36 years, which was started in the basement of their home.
Bobbie and her husband got involved with Mid-Continent Railway Museum around 2010, joining the museum's Task Force for the rebuild of the C&NW #1385 steam engine. Unfortunately, her husband passed away suddenly in early 2012. Shortly thereafter, Bobbie joined the board of directors at the museum's request. In addition to the Task Force, Wagner has served, and still serves, on several committees. She enjoys the camaraderie with the members and admires the dedication to preserving railroad history. Bobbie loves being able to present it to the general public in a most enjoyable way.
Gary Bjorge
Gary and his wife, Becky, joined Mid-Continent in 2013. They have been married for over 50 years, and the couple have 3 children and 2 grandsons. Recently, the pair have moved into their new retirement house near Pardeeville WI.
Gary spent most of his working career repairing semi-trailers, the last 40 years at North Central Utility, formerly Badger Utility. He was also a volunteer Fire Fighter and E.M.T for 17 years in Deforest, WI.
In his spare time, he likes to do woodworking. In the summer you can find him in his garden, or simply relaxing around the yard.
Gary became a board member in 2022. At Mid-Continent, he helps with dining services, and aids in keeping the museum grounds clean and safe for the public. Gary also helps in other areas whenever possible.
Richard Colby
Richard Colby has been with Mid-Continent since 2011, joining in his senior year of high school. He graduated from the University of Wisconsin – Platteville with a Bachelors in History, and from Southern New Hampshire University with a Masters in Public History. For nine summers, Richard was on the summer train crew at Mid-Continent, and has been volunteering in many areas of the museum since becoming a member. He is an assistant manager at a large bookstore, and has been working there for a few years now. A lifelong rail enthusiast, Richard has a model railway at home, as well as a boxcar and caboose at Mid-Continent.
Jeff Bloohm
(Coming soon!)
Chris Salmonson
(Coming soon!)
Dave Bierman
(Coming soon!)
---
Department Leaders
Jeffrey Lentz – Office Manager
(Coming soon!)
Jeff Haertlein – Gift Shop
Jeff first visited Mid-Continent in 1965 and officially joined as a volunteer in July of 1969. One of his volunteer duties became overseeing the gift shop in 1973, a role he has continued to this day. Moving to North Freedom in 1975 was critical in running the shop. He has greatly enjoyed running the gift shop all these years and takes pride in the fact that Mid-Continent has one of the finest museum stores around.
It would be remiss to not mention Jeff's wife, Cindy, who has given him immense support in helping Jeff run the gift shop. They met in 1971 while Cindy was working at the museum, and they were married in 1976.
Aside from his role with the gift shop, Jeff also volunteers in the Restoration Department, gives museum tours, and is part of the team that creates the museum's annual wall calendar. Jeff's dream is to see Mid-Continent build a Visitor's Center building which would contain the gift shop. He is very appreciative of visitors' and members' continued faith as the Haertleins continue to operate the gift shop.
Ed Ripp – General Foreman of Steam Power
Ed joined Mid Continent in November of 1995 while he was still in high school. He helped where he could as he was only 16 at that time. As time went on, Ed was able to provide aid in the engine house working on the steam locomotives.
When he graduated from high school, he went to Northeast Wisconsin Technical College and studied Diesel and Heavy Equipment.
After graduating, Ed worked at FABCO for 5 years working on Caterpillar construction equipment. He then started his career as a heavy equipment operator for the Wisconsin and Southern Railroad in the Maintenance of Way department. There was a 2-year period when he worked for the Canadian Pacific Railroad in the same department.
Ed has helped with several other steam locomotive operations in the Midwest, which has deepened his knowledge of steam locomotive operation and maintenance.
Through the years in the engine house, he has assisted with inspection, maintenance, and repairs to the diesel locomotives.
Jeff Bloohm – General Foreman of Diesels
(Coming soon!)
Richard Colby – General Foreman of Rolling Stock
(Coming soon!)
Nick Vertein – Superintendent of Engineering
(Coming soon!)
Dave Bierman – Road Master
(Coming soon!)
Jeffrey Lentz – Superintendent of Operations
(Coming soon!)
Colin O' Brien – Training Officer, Conductors & Trainmen
(Coming soon!)
Theresa Atwell – Crewcaller
(Coming soon!)
Rick Thiele – Dispatcher & Archivist
(Coming soon!)
Bill Buhrmaster – Restoration Department Manager
(Coming soon!)
Jeff Huttenburg – Acting Superintendent of Dining Services
(Coming soon!)
Andy Spinelli – Acting Superintendent of Buildings and Grounds
(Coming soon!)
Administrative Staff
Jeffrey Lentz – Office Manager
Theresa Atwell – Office Manager Assistant
Rebecca Madero – Office Assistant