Gifts to Mid-Continent
The vision of Mid-Continent's founders to restore a single steam locomotive and a few coaches in which to give train rides was pretty modest by today's standards. Their image of a small operating museum has grown over the years into the experience we all now enjoy at our North Freedom location, where the era of vintage train travel remains an exciting adventure. Ticket and gift shop sales have never been enough to keep these trains rolling. It takes the charitable support of members and friends to cover the huge costs of being one of the most respected museums for the preservation of our railroad heritage.
Please join us by making your own contribution to one of the museum programs listed below. Every donation is acknowledged with a formal receipt affirming your financial support as fully tax-deductible.
Mid-Continent is a not-for-profit, educational entity, incorporated in the state of Wisconsin and accredited by the Internal Revenue Service as a 501(c)(3) organization.
How to Make a Donation
Donate Online
Donations can be made online using PayPal. You do not need a PayPal account to use this feature. PayPal accepts all major credit cards as well as allows you to use a PayPal account if desired.
If donating for a specific program or purpose, either utilize the buttons specifically for those projects further down this page, or use the "Other" option of the general PayPal form and write in instructions on the form for MCRM staff.
Additionally, in order to receive a mailed receipt and thank you letter from Mid-Continent affirming the tax-deductible status of your donation, be sure to check the box for "Share my mailing address with Mid-Continent Railway Historical Society, Inc."
Donate By Mail
If you prefer to donate by check, please fill out the donation purpose on the check memo line or use the printable donation form and mail it along with your check to:
Mid-Continent Railway Historical Society
PO Box 358
North Freedom, WI 53951
Donate By Phone
Donations via credit or debit card can be accepted by phone by calling 608-522-4261 or toll-free 800-930-1385. Credit and debit card donations can be one-time or set up to be reoccurring monthly, quarterly, or annually.
---
Please feel free to call us if you have any questions about the best way to support the museum. Your charitable gift will be used entirely as you direct, or if left unrestricted, where we have the greatest need.
Recommended Projects
Many donors wish to support a specific locomotive, railcar or other favorite projects. Below are a few recommended ongoing projects in need of financial support. To donate to these recommended projects online, utilize the buttons below or write the project/program name inside the empty box on the printable donation form.
Here is a list of our current recommended projects:
Rail Relay Project Phase 2
Mid-Continent Railway Museum's trains have traveled the rails at North Freedom for 60 years… rails which are themselves often well over 100 years old. Now your help is needed to guarantee Mid-Continent's rail line remains safe to operate for another 100 years and beyond.
In spring 2023, Mid-Continent completed the MCRY Rail Relay Phase 1, which included replacing 2,500 track feet. That effort addressed only the most urgent areas of extremely worn and fatigued rail.
MCRY Rail Relay Phase 2 is the next crucial step in addressing worn and fatigued rail along Mid-Continent's rail line. Phase 2 will be much larger in scope, replacing 11,431 track feet (2.16 miles) of rails, joint bars, tie plates, rail anchors, track bolts, and spikes! Check out page 10 of the newsletter for more details on the project.
At current market prices, this phase would normally require $1.5 million to complete, but thanks to an opportunity to buy excellent quality relay rail from a nearby Wisconsin railroad, for a limited time, Phase 2 can be completed for approximately $820,000. This is an incredible savings to Mid-Continent, but we must be ready to purchase the rail promptly when it becomes available.
HOW YOU CAN HELP
We are seeking to raise at least $35,000 from member contributions. With a project of this scope, Mid-Continent is seeking funding from multiple sources, but support from our membership is of vital importance. If we are unable to demonstrate support for this effort from within our own membership, it becomes difficult to convince any outside organizations why they should give financial support to this project. Your gift today, no matter the size, can help Mid-Continent to unlock larger funding sources.
EJ&S #2 Combination Car
East Jordan and Southern #2 is Mid-Continent's oldest train car. It was originally built in Nov. 1864 as first-class coach and acquired by the museum in 1963. It has been at Mid-Continent for the past 60 years. In order to finalize this unique car's restoration, funding is required.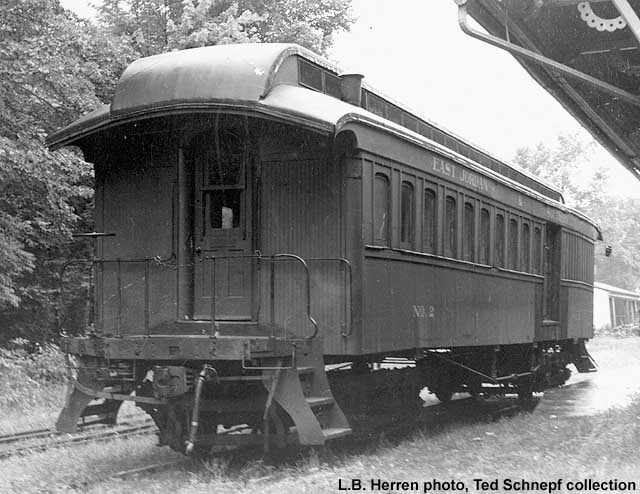 Depot Siding Repairs & Repainting
Mid-Continent's 1894 depot is the first thing the public sees when visiting our museum. The building's wood siding has survived three floods in 15 years, but it has taken a toll. Rot is becoming an issue on siding along the building's lower half and window frames. Plans call for a contractor to make the needed repairs and repaint the building. This work will keep the building looking good for years to come.
DSS&A DULUTH Sleeping Car Restoration
Please consider making a donation to the "DSS&A Sleeper DULUTH Fund" so Mid-Continent can restore the DULUTH sleeping car to its former glory. It is Mid-Continent's goal to accurately restore the DULUTH to its original condition (1902 to 1915 time period). To kick off the next phase of restoration tasks, a $75,000 fundraising effort is underway to allow major material acquisition and some labor costs.
The fundraising total shown is as of December 29, 2022. The fundraiser began in May 2019. Total excludes monies raised through separate fundraisers, such as the Buy-A-Berth campaign and Matching Your Funds matching fund drive.
Montana Western #31 Matching Fund Drive (FUNDRAISING GOAL ACHIEVED)
The fundraising goal for the Montana Western #31 project has been achieved. Donations are no longer being matched. Thank you for your support!
Mid-Continent is home to the oldest surviving, and largely unmodified, gas-electric rail car built by the Electro-Motive Corporation. Built in 1925 and added to the American Society of Mechanical Engineers' list of National Historic Mechanical Engineering Landmarks in 2022, the Montana Western #31 last operated in 1987 and has been out of service ever since awaiting repairs to its original Winton engine. During that time, it has been a stationary display piece inside Mid-Continent's Coach Sheds.
Now the time for waiting for repairs is over! Mid-Continent has a plan to put this car back into operating condition so visitors can once again enjoy a ride aboard this historically significant car, but your help is needed. Mid-Continent has secured a $10,000 matching grant for the project which means your donations will be matched dollar-for-dollar until the goal is reached. Donate now to make your donation go twice as far. Funds received will be used to make repairs to the original Winton engine and associated repairs needed to make the #31 operational once again.
General Programs
Donors have the freedom to choose which areas of museum operations they wish to support. Here is a list of recommended general programs available to donate to at any time.
General Fund
General Fund
Sometimes the most powerful gift is the one that is made without restriction. The General Fund was established to allow museum management the discretion to use its unrestricted gifts where they are most needed. Your gifts to this fund will help us meet the most pressing need.
C&NW #1385 Steam Locomotive
C&NW #1385 Steam Locomotive
Gifts to this fund will benefit the restoration of the former Chicago & North Western No. 1385 to full working order. When complete you will be able to enjoy a train ride powered by this 1907 built ten-wheeler, famous for its goodwill tours of the 1980s. You can follow the project's progress on the Steam Status page.
Steam Fund
Steam Fund
Gifts to this fund benefit Mid-Continent's steam engine restoration program without limiting the gift to a particular locomotive. This allows museum management the discretion to use the funds as needed on projects such as restoring to operation Chicago & North Western No. 1385 and Western Coal & Coke No. 1.
Wood Car Restoration
Wood Car Restoration
A tour through the Coach Shed is the best way to experience the stunning success achieved in restoring Mid-Continent's wooden car collection. There are many more pieces on our property in need of this same type of treatment and gifts to this fund help us to revitalize the marvelous craftsmanship hidden beneath the age and deterioration of these once marvelous relics.
Education
Education
Mid-Continent's charitable status is based on its role in sharing information about railroad history during the Golden Age of Railroads. Gifts to this fund help to care for our archival collection, maintain and create exhibits and improve our ability to reveal the wonders of the past at the highest quality possible.
Mechanical Department
Mechanical
Mid-Continent Railway Museum is more than just a museum, we are an operating railway. The maintenance of operating cars and locomotives falls upon the Mechanical Department. Whether it is applying a new coat of paint, buying new wheels for the coaches, or repairing the air conditioner units of our First Class cars, our shop forces are always busy. A donation to the Mechanical Department helps us keep these cars and locomotives in service and earning revenue, thereby helping the museum twice with a single donation.
Engineering Department
Engineering
Ownership of our own railroad line grants Mid-Continent great operational flexibility. However, ownership of the railway also involves significant costs including regular inspections and maintenance of rails, ties, roadbed, bridges, highway crossings, and signals. Gifts made to this fund will help us maintain and improve what is perhaps Mid-Continent's most important asset.
Buildings & Grounds
Buildings & Grounds
The least glamorous aspect of our work is the maintenance of a significant infrastructure consisting of buildings, lighting, sewer and water systems. These are things that are vital for a safe and comfortable visit for museum guests and volunteers as well as the protection of our key collection items. Even a virtual Tour of the Grounds will impart a fair idea of how extensive this capital investment has become. Gifts made to this fund will help us maintain the things we often take for granted but are vital to operating a museum.
---
Donate through Amazon.com
Amazon Charity List
Amazon Charity Lists work in the same way as a wedding registry. Mid-Continent has created a list of items the museum uses on a regular basis for restoration projects, maintenance, and museum administration. You then purchase the items through Amazon and have them shipped directly to Mid-Continent where they will be put to use. VIEW MID-CONTINENT'S CHARITY LIST.