Canteen Tender, American Locomotive Co. Schenectady Works, July 1919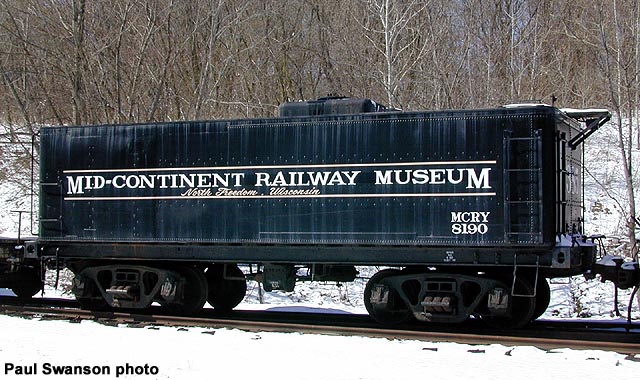 This canteen tender (for use as a supplementary tender) was originally mated with Milwaukee Road steam locomotive #8670, an L3 class 2-8-2 built in July 1919. The engine was renumbered to #373 in 1938 and was scrapped on November 10, 1949. The tender survived and was converted into a canteen car to haul and store diesel fuel or water. In this service, it was renumbered to #908190. In 1967 it was retired and donated to Mid-Continent.
It remained unused at North Freedom for several years until C&NW approached Mid-Continent about using steam locomotive #1385 on their system for publicity. Since C&NW no longer had water facilities for steam locomotives, and #1385's existing tender only held enough water to operate the engine for several hours (depending on how hard it was worked), an auxiliary tender was needed to extend its range for operating an entire day without stopping for water. #8670 was perfect for this service. Hoses and fittings were added to connect it to #1385's existing tender, it was painted, and placed in service in 1982. It served with #1385 every time it left North Freedom for off-line excursions. The last occurred in 1992. Since then, #8670 has been stored and occasionally used as a water storage tank during Snow Train special events.